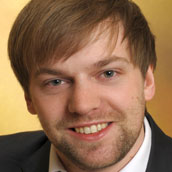 Strategies towards optimized and flexible facilities for vaccine and biotherapeutic manufacturing
19 June: 16:20 - 16:40
Sebastian Pungel, Programme Manager, Univercells
ABSTRACT
The world is facing an under-supply of some key vaccines and biotherapeutics due to poor synergies between growing market demands and aging production models. In this light, Univercells has developed a proof of concept of a vaccine manufacturing platform aiming at increasing availability and affordability of vaccines - the NevoLineTM system. This simulated continuous and automated platform integrates both USP1 and DSP2 processes and is encapsulated into an isolator, making it a self-contained production unit (6m²). The technology relies on a single-use, high-density fixed-bed bioreactor operated in perfusion chained with downstream filtration, clarification and polishing steps to (a) decrease batch time, (b) reduce equipment utilization, (c) optimize utilities consumption and (d) intensify operations. By optimizing single-use technologies we are able to drastically reduce CAPEX3 , CoGs4 and footprint and increase production capacity. Such manufacturing platform can easily be implemented into flexible facilities with simplified infrastructure, increasing adaptability in production and capacity for record time-to-market.


BIOGRAPHY
Sebastian joined Univercells (Belgium, Germany) in 2017 as a Program Manager for recombinant proteins and was leading multidisciplinary project teams to ensure successful delivery of the project's objectives. Today, Sebastian is responsible of science and innovation. He is in charge of evaluating technologies across all Univercells businesses covering all aspects of manufacturing technologies for producing drug substance, drug product of therapeutic proteins and vaccines as well as analytical and equipment development.

Sebastian Püngel graduated with a Bachelor degree from University of Applied Sciences Emden (Emden, Germany) followed by a Master degree from Beuth University of Applied Sciences Berlin (Berlin, Germany) with a focus on cell culture technology and recombinant protein production.


COMPANY PROFILE
Univercells
Univercells is a technology company aiming to radically reshape the biologics industry to make high-value biologics available and affordable to all. To achieve this, we have developed turnkey solutions for vaccines and biosimilars, enabled by low-footprint multi-product manufacturing platforms. Our turnkey solutions include process, equipment, consumables, documentation, biological material, analytical methods, access to IP and training. The tech transfer of those solutions enables our manufacturing partners to be fully operational in a record time and at a record cost. We believe that our integrated solutions create value for all: patients, healthcare systems and manufacturers: - Available and affordable drugs expand patient's quality of life in currently underserved markets - Affordable drug supply unburdens healthcare systems by generating substantial savings - Cost-effective production enables Manufacturers to address new market niches while retaining sustainable margins