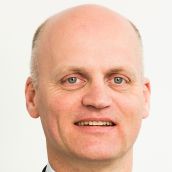 Confirmed title: Optimised formulation strategies: development of an oral formulation of Edaravone for ALS
20 June: 10:00 - 10:30
Dr Ronald van der Geest, Partner, 3D-PharmXchange & CDO, Treeway, 3D-PharmXchange & Treeway
ABSTRACT
Ronald van der Geest, Chief Development Officer will speak about the development of TW001, Treeway's lead product, being a clinical-stage oral treatment for ALS. Edaravone, the active ingredient of TW001, is a compound for which it was said to be not possible to develop an oral formulation. Ronald will explain how Treeway succeeded nonetheless, driven by their unique patient driven development approach and will lead the audience through the early stages of the development of their first pilot formulation, including early in vitro studies, animal PK trials and subsequent clinical trials. He will also speak about the reason why Treeway selected this compound and the associated importance of biomarker development in ALS.
BIOGRAPHY
Ronald is one of the founders of 3D-PharmXchange. Next to his role as general partner, he holds roles as CDO and is Treeway's CDO since 2013. He is an advisor for various regional and strategic development programs in the life sciences and involved in the establishment of a number of early start-up companies. Ronald led the development of Glybera™ for uniQure, the 1st approved genetherapy product in the western world and holds strategic knowledge in the areas of translational development, orphan drugs, individualized medicines and biomarker-based development. Prior to co-founding 3D-PharmXchange Ronald was COO and CDO at Kinesis Pharma, responsible for business development and multidisciplinary drug development, leading the team project leaders. During this time he held advisory board positions and interim management positions for clients, supporting them in fund raising, drug development and corporate strategy. Prior to that he worked for various companies, including Tibotec where he was, amongst others, Compound Development Leader for Prezista®.

He is a PhD-level clinical pharmacologist and drug delivery expert by training (Leiden University and UC San Francisco) and started his career in this area at Johnson & Johnson, Belgium.


COMPANY PROFILE
3D-PharmXchange & Treeway
Treeway is a biotech company with a focus on the development of therapies for Amyotrophic Lateral Sclerosis. ALS is a fatal progressive neurodegenerative disease for which currently no effective treatment is available. Treeway has built a pipeline of two products (TW001 and TW002) and several research lines, including access to the world largest independent large-scale ALS genetic research (Project MinE).
Treeway's mission is to develop new therapies for patients by patients as soon as possible.New insights, for example coming from Project MinE may in the end result in finding a cure for ALS. Treeway follows a virtual company business approach to limit fixed costs and be very flexible in the need for specific resources to obtain our business goals. For this purpose, Treeway hired 3D-PharmXchange as their drug development partner.