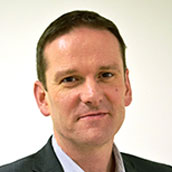 Security of supply: Choose a dedicated analytical partner to ease CMC capacity constraints
19 June: 15:00 - 15:15
Dr. Ray Sexton, BDM, Solvias AG
ABSTRACT
Biopharmaceutical manufacturing quality is only as robust as the associated CMC analytics. An ever-growing pipeline of therapies plus increasing regulatory demands is causing capacity issues for all analytical labs - so what can Solvias do to ensure your analytical program delivers on time? The traditional transactional outsourcing model is evolving - the era of short notice, on-demand testing is rapidly becoming a thing of the past. Successful delivery programs now rely heavily on close partnerships between sponsor and analytical provider. To ensure development programs stay on track, Sponsors must now engage with their dedicated analytical partner long before manufacture to establish robust methods, set specifications, reserve capacity and prepare CMC ready documentation. Solvias supports our partners with a 100% consultative relationship featuring professional Project Management, Technical expertise and Regulatory support. The Solvias Solution provides the complete portfolio of GMP analytical techniques in a single hub, this one-stop-shop approach delivers every component of Protein characterisation, Comparability & Stability to address Quality, Identity, Sequence, Higher order structure, Post translational modifications, Process & Product related impurities and Potency.


BIOGRAPHY
Dr Sexton is a Biopharma Sales manager at the Swiss Analytical Laboratory, Solvias AG, specialising in the analysis of Biotherapeutics, Monoclonal antibodies and Biosimilars. Based in the UK, Ray has over 20 years' experience in Biopharmaceuticals, spending many years at BioReliance (now Merck KGa) in Key Account roles throughout the UK, Ireland & Scandinavia. Our aim is to provide the complete analytical CMC service from characterisation to QC release and to differentiate based on unrivalled expertise, capabilities & service within a single hub.


COMPANY PROFILE
Solvias AG
Solvias is a world leader in contract research, development and manufacturing with headquarters near Basel, Switzerland. Over 500 highly qualified employees work as a team to deliver unrivaled expertise, service and value to our customers in the pharmaceuticals, biotech, medical devices and cosmetics industries. Drawing on our well-established scientific experience and proven track record, we develop, analyze and test a wide range of biological and chemical substances, enabling our customers to deliver safer and better products to the market faster.