Welcome to Biotech Outsourcing Strategies cmc 2016, the partnering event for CMC outsourcing, small molecules and biologics. Established in 2008, BOS cmc is a leading partnering event for the CMC outsourcing community. Attendees include CMC outsourcing professionals from SME biotech, medium and large sized pharma, CMO/CDMOs and CROs offering analytical/testing capabilities.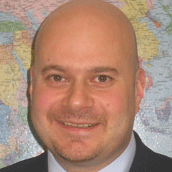 FEATURED SPEAKER
Dr Ulrich Rümenapp
Head of Launch Preparation and Coordination, Biological Development
Bayer Pharma AG
Read biography
The event scope will cover API and Drug Product Outsourcing Strategies for NCE's and NBE's. In addition, our programme includes plenary sessions which will explore Quality and Regulatory aspects of outsourced CMC development. Building on last year, we are pleased to welcome back guest speaker, Kate Vitasek, a global authority on collaborative buyer/supplier partnerships, who will lead our Supplier Relationships module.
The BOS Events Formula
Tried and tested since 2006, the BOS Events formula includes a combination of partnering, presentations, exhibition and informal networking. These four core elements run in parallel and ensure that BOS is a dynamic event designed to impart new knowledge and build new networks.
Presentations: Hear from peers in the industry and learn how others are approaching shared outsourcing challenges. See our programme for more details.
Partnering: Central to the BOS Events philosophy, 1 to 1 meetings between sponsor and vendor provides a great opportunity to initiate contact or touch base on existing projects. Partnering is facilitated using our partnering software which is typically available to all delegates one month prior to the BOS meeting. Participation in partnering meetings is entirely at your discretion.
Exhibition: The central hub of the event, the exhibition provides a platform for sponsor and vendor to engage and discuss outsourcing opportunities. Click here to see the floor plan and exhibiting sponsors.
Informal Networking: Informal networking over coffee, lunch or drink reception, is an important component of the BOS Events formula and presents opportunities for attendees to discuss shared opportunities in a relaxed environment.
We look forward to welcoming you to BOS cmc 2016 at the Congress Centre Basel.