1–2 July
Basel, Switzerland
Bio2Business is delighted to welcome 2bind GmbH, Silver Sponsors at BOS Basel 2020.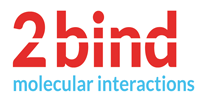 2bind GmbH provides taylor-made biophysics services for drug discovery (Fragments/Compounds, Protein/RNA-targeted, HT Screening, Hit Validation, Hit Characterization), antibody development (Ab Stability Studies, Ab-Ag Interaction Studies, Pre-Formulation), aptamer characterization ((HT Screening, Kinetic and Thermodynamic Profiling) and protein biophysics (Interaction Analysis, Stability Analysis, Buffer Optimization, Enzyme-Stabilization) with a state-of-the-art method portfolio comprising nanoDSF, MST, BLI and ITC.
To find out more about the full breadth of 2bind GmbH services, click here to visit the website.
---